Summer surf camp 2022/23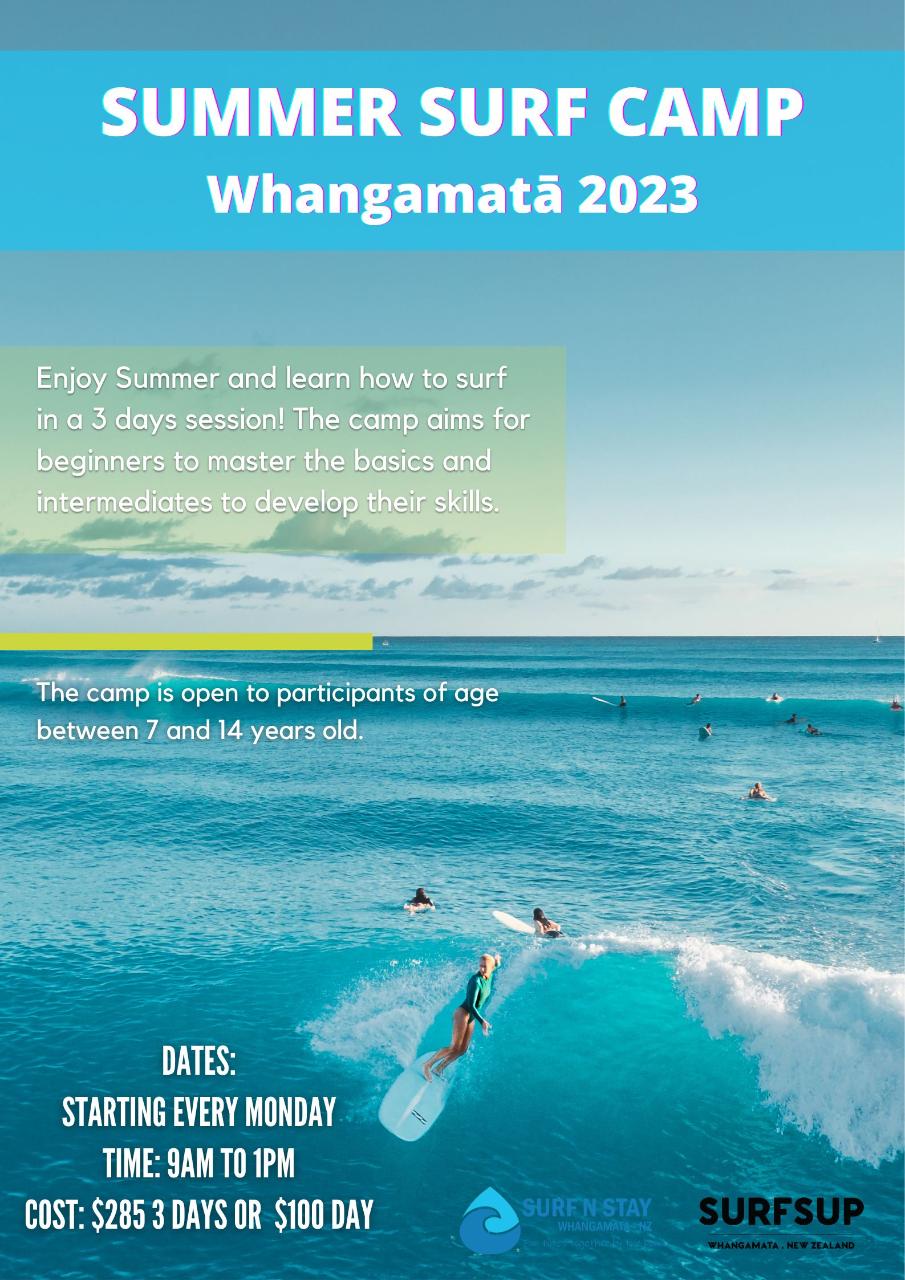 Duration: 3 Days (approx.)
Location: Whangamata, Waikato
Product code: PZP9A5
Summer Surf Camp with NZ Surf n Stay
Location: Williamson Park, Whangamata
Dates: starts every Monday
Time: 9am to 1pm
Age: 7 to 14 years old
Intro
This school holiday camp is a surfing development program.
The aim is to learn and progress with ocean safety and theory techniques within the 3 days intensive program while having fun.
Each day will include:
>Day 1: Surfing and activities including balance boards, exercise balls and games.
>Day 2: Two surf sessions and with a end of the day beach clean up.
>Day 3: Two surf session (skate boarding if waves not allow).
We will be encouraging a new outlook on how they view the ocean and with an ECO friendly point of view throughout the camp to encourage the next generation to protect our playground!

Your child will be leaving with new skills and confidence, and as a keen surfer in the making!
What to Bring in your bag:


> Packed lunch and drink bottle (pocket monies optional)
> Sun Cream 30+-50+ and Zinc (to be pre applied and have for re applying)
> Wetsuit and Surfboard (Own equipment can be used or supplied.)
> Hat and towel
> Wax and wax comb
Day 1
8:45am Meeting @ Williamson Park
9am to 11am Surf lesson
11am to 11:30am lunch break
11:30am to 1:00pm Training and surf drills, including balance exercises
Day 2
8:45am Meeting @ Williamson Park
9am to 11am Surf lesson
11am to 11:30am lunch break
11:30am to 1:00pm Training and surf drills, including balance exercises
Day 3
8:45am Meeting @ Williamson Park
9am to 11am Surf lesson
11am to 11:30am lunch break
11:30am to 1:00pm Training and surf drills, including balance exercises